Historic 1736 Easton Home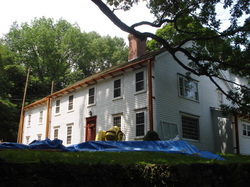 This project required a strict adherence to both period architecture design as well as period construction techniques. All work was required to be

done in such a manner as to not affect the historic value of this beautiful home.

Post and beam construction was used to comply with this requirement as well as sourcing of distressed period style building materials. The same attention was given to the garage, outside barbeque, and driveway.
Pictures below........
click on images to enlarge
---